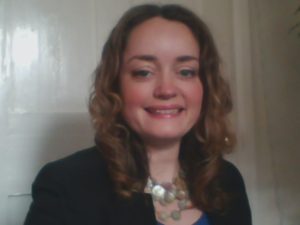 Tracy James MSc CAC RHAD
HCPC registered Clinical Scientist, Audiology (CS13928) and Hearing Aid Dispenser (HAD01621)
Tracy James is the director of TJ Audiology Services and Tracy James Hearing which she runs while maintaining her clinical experience in the NHS and the private sector. Tracy has over 15 years experience in Audiology, including extensive experience in both clinical training and lecturing at Masters' Level. Between 2008 and 2013 she was Programme Director for the MSc in Educational Audiology, Oxford Brookes University.  Currently she works as a Module Leader for the course, which is now accredited by the University of Hertfordshire  and run at Mary Hare School for the Deaf. Her clinical experience includes audiovestibular assessment and (re)habilitation of adult and paediatrics, from routine to complex cases. Between 2012 and 2015 Tracy was the Paediatric Service Lead for the Royal Surrey County Hospital in Guildford.
Tracy was the lead author for the BSA Recommended Procedure in impression-taking (Supplement – paediatrics) as a member of the BSA Professional Practice Committee. She also coordinated and edited the latest edition of the BSA Recommended Procedure for Visual Reinforcement Audiology.
Tracy is a member of the British Society of Audiology, British Academy of Audiology and is HCPC registered. She is also a teaching fellow of the Higher Education Academy.
TJ Audiology and Tracy James Hearing offices are based in Newbury, Berkshire nearby to neighbouring counties Hampshire, Oxfordshire, Wiltshire and Buckinghamshire.
See Tracy James Hearing Services website

Why TJ Audiology?
TJ Audiology Services provides high quality training, by constantly maintaining  and developing knowledge in up to date research, teaching methods, policy and practice. Tracy James is the lead trainer and has several years experience in teaching within Higher Education.
TJ Audiology offers training courses in Newbury, Berkshire. TJ Audiology also delivers courses in-house nationwide in the UK, for larger numbers of delegates, saving money on travel and time costs to businesses. TJ Audiology has delivered courses in Hampshire, Wiltshire, London, Sussex, Kent, Norfolk,  and internationally in France, Estonia and Hong Kong. See prices and in-house training for more information.
See Training Courses for the range of training courses offered which includes BSA certificate courses, that have been accredited by the British Society of Audiology. Tracy James will also provide tailor made training courses within the Audiology Sector.
"